Chelan to Leavenworth – Driving to Leavenworth & Things to Do
How far is Chelan from Leavenworth?
by Alicia Butler, September 13, 2022
Chelan to Leavenworth – 1 hour/55-mile drive
I lived in Seattle for nearly eight years but it wasn't until after I'd moved back to the East Coast that I visited Lake Chelan for the first time.
One of the deepest glacial lakes in the world, Lake Chelan is an obvious resort area for Seattle and Spokane alike. To get to Seattle from Chelan, it's only about a four-hour drive through some of the most scenic country you'll find in the U.S. 
While the drive isn't that long, I highly recommend stopping in Leavenworth along the way. The drive from Chelan to Leavenworth is only a little over an hour, and this Bavarian-inspired tourist attraction is well worth the stop. 
Driving From Chelan to Leavenworth
The drive from Chelan to Leavenworth doesn't take terribly long. It's also pretty scenic, so the time flies by relatively quickly. 
Driving Distance
Depending on your route, the driving distance between Chelan and Leavenworth is around 55 miles or 59 miles. 
US-97 ALT S runs along the west side of the Columbia River, and US-97 S runs along the river's east bank. Both routes are equally scenic, but I love taking US-97 ALT S when driving from Leavenworth when I'm coming back to Seattle from Chelan for some reason.
Either route you take, you'll need to merge onto Route 2 to start making your way west to Leavenworth.
Driving Time
It takes a little over an hour to drive from Chelan to Leavenworth. 
Since traffic can alter your travel time during peak seasons, you may simply want to check Google Maps for the quickest route between the two.
4 Reasons to Stop in Leavenworth
Need a 'lil convincing to stop in Leavenworth on your way to Seattle? There are plenty of reasons to make a pit stop in Leavenworth (or even spend the night!). For one, it's one of my favorite Westcoast travel destinations!
1. Take a Break Driving From Chelan to Seattle
The drive from Chelan to Seattle can take between three and four hours. If you're driving during peak tourist season in the summer, it could take even longer.
The longest it's ever taken me to make the drive was six hours. Google Maps really screwed me and took me along Route 2 from Leavenworth to Seattle, and with traffic, the journey took seemingly forever. 
Yes, it was Sunday evening during peak season. Yes, I should have left earlier (or waited until Monday to drive home). 
Either way, you could end up spending most of an entire day driving between Chelan and Seattle, so you'll want to schedule some breaks into your trip — and Leavenworth is a natural stopping point.
2. Leavenworth is a 'Bavarian' Town in Washington
Leavenworth's claim to fame is that it's a Bavarian-style town in Washington.
Situated betwixed the Stuart Range and Wenatchee Mountains, Leavenworth has a "resort mountain town" vibe. 
Originally used as hunting grounds for the Yakama, Chinook, and Wenatchi tribes and settled in the late 19th century by Yukon Gold Rush would-be miners, Leavenworth (or Icicle Flats as it was called) was the center of a booming logging and sawmill industry.
Eventually, the trains were rerouted out of Leavenworth, leaving it a ghost town, until the 1960s (when Americans began traveling more by car than railway) when town officials decided to add Bavarian facades to the buildings on Front Street, leaning into the town's already mountainy Alpine feel.
These days, Leavenworth embraces its faux Bavarian ambiance, hosting an Oktoberfest and Christmas market. Oompah bands are a common sight during touristy seasons and German restaurants reign supreme here.
4. Eat Lunch at München Haus
If you only have a few hours to spend in Leavenworth, I'd recommend eating lunch at München Haus. 
This beer garden and grill's menu features mostly sausages. But if you're meat-free or don't eat pork, don't worry! There are plenty of chicken, Beyond, and veggie wursts to choose from, too.
You can add topics, like Beecher's cheese, caramelized onions, and chili (even vegan chili). Or, make your wurst a true Seattle dog by adding cream cheese! The self-serve complimentary add-ons include:
Apple cider sauerkraut

German curry sauce and jalapeño hornet sauce

Dill relish, sweet relish, diced onions, sliced jalapeños, creamy horseradish, bbq, jak's

Hot sauce, ketchup, mayonnaise, and specialty mustards
Wash it all down with a Bavarian beer (if you have a DD) or a soda. 
Also, if you're budgeting your trip, you'll find the price of lunch at this spot is easy on your wallet, too.
5. Stretch Your Legs on Front Street
I usually need to take a little walk after eating at München Haus to let my stomach settle from all that beer and sausage.
If you walk down Front Street, you'll find gift shops, Instagrammable spots, and plenty of German restaurant menus to keep you occupied. Depending on the season (especially from May through December on the weekends), you may even spot an oompah band or a festival taking place on the town green.
Since the drive from Leavenworth to Seattle takes at least two hours, I like to take some time to stretch my legs and enjoy the fresh mountain air. 
Chelan to Leavenworth to Seattle Itinerary
Need some help budgeting your trip time from Leavenworth to Seattle? This itinerary should help you gauge how much time you might want to spend driving to Seattle versus stopping in Leavenworth. 
I've also included some ideas for breakfast and snacks here, too.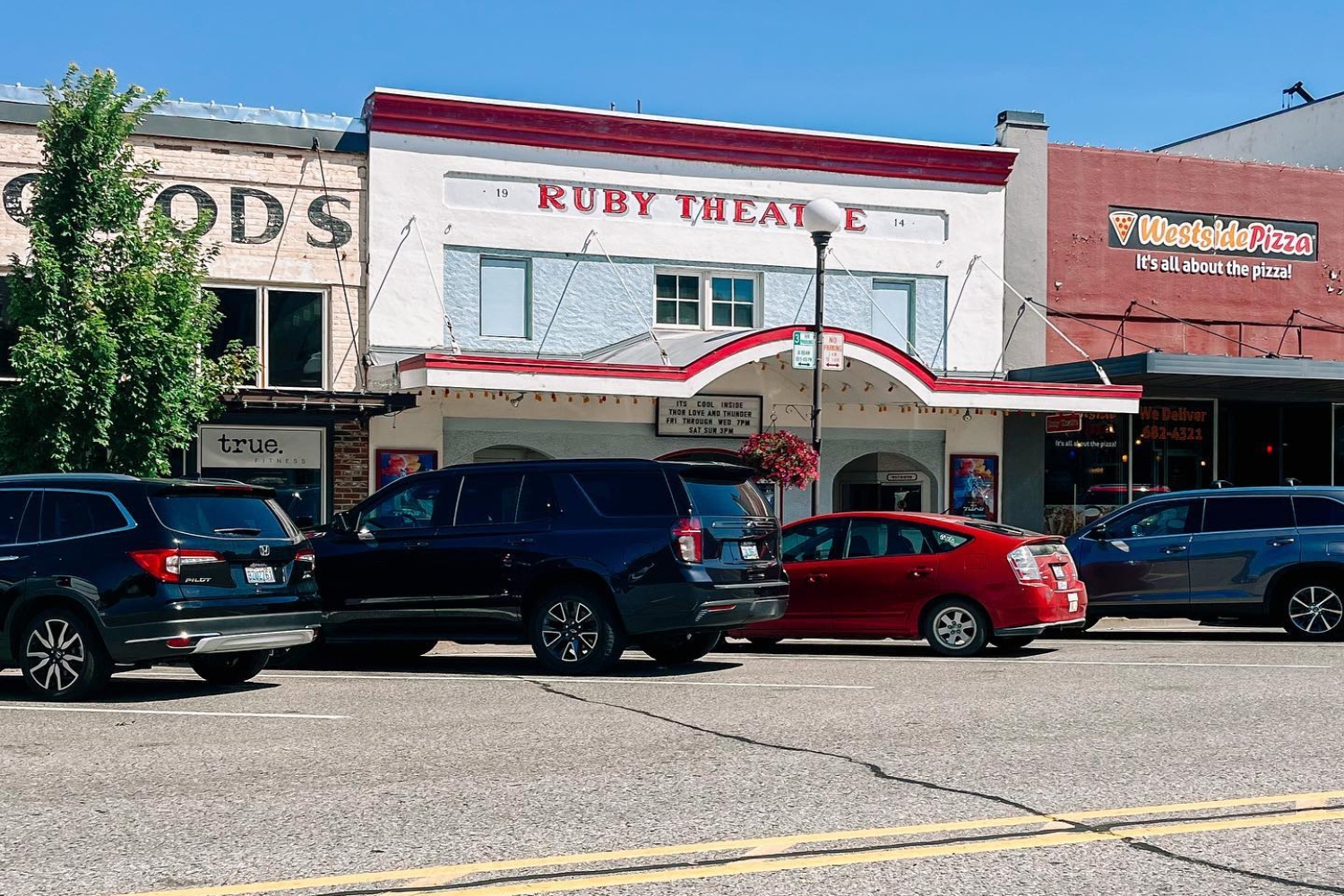 10:00 AM: Get Breakfast at Vogue
I like getting breakfast at Vogue coffee house before leaving Chelan to drive to Leavenworth. 
This spot is quick service and offers a decent selection of pastries, breakfast sandwiches, and burritos. The coffee here is also pretty good.
If you have more time to kill, I'd recommend getting breakfast at Campbell's Resort on Lake Chelan. Brunch is served daily from 8 a.m. to 1 p.m., and lunch starts as early as 11 a.m., so there are plenty of options. 
The coffee here is also really good (yes, the drip is so strong it tastes like espresso), the bloody Mary had a great kick, and the mimosas were just as strong as the coffee. Both of our breakfast items were delish (we had the chilaquiles and biscuits and gravy).
11:00 AM: Drive to Leavenworth
The drive to Leavenworth from Chelan may only be a little over an hour, but traffic in the summer months (especially on the weekend) can lengthen this time.
Plan for at least an hour and fifteen minutes to an hour and a half drive if you're heading to Leavenworth during peak season. 
Also, the drive is insanely beautiful, so you may feel compelled to stop along the way. Don't miss out on all this natural beauty because you feel rushed to get to Leavenworth so you can get to Seattle (if the Emerald City is your final destination). 
11:15 AM: Park on Front Street
If you're lucky, you'll find parking on Front Street. This main street runs through Leavenworth, past most of the main sites.
There are also some lots in alleyways behind the buildings or some parking lots scattered around town.
It gets really crowded in Leavenworth during Oktoberfest (as you might imagine) so the town has plenty of parking, and you shouldn't have too much trouble finding a spot if you're stopping here any time aside from the last week of September or the first two weeks of October.
You may just need to walk 10 minutes or so to get to Front Street if need be.
11:30 AM: Walk/Shop on Front Street
München Haus opens at 11 a.m. (and it's not a bad idea to get there as early as possible during the summer to avoid long lunchtime lines). 
But if you've just eaten breakfast, you might want to take a stroll down Front Street first, pop into some of the shops, and stretch your legs.
12:30 PM: Line up at München Haus
My favorite lunch spot in Leavenworth — hands down — is München Haus. 
If you're only stopping in Leavenworth for a few hours (or just for lunch) and it's your first time here, this is really the only place to stop for lunch. And I'm not the only one who believes this.
München Haus is where many Seattleites stop for lunch in Leavenworth on their way to and from Chelan. You'll want to budget plenty of time to wait in line to order, time to loiter and find an empty table, and time to get your food.
1:00 PM: Lunch at München Haus
Any of the sausages will do, as they're all good, and toppings are the stars of this attraction. 
The beer garden will be crowded, so plan to wait a little while for a table. 
2:00 PM: Get Ice Cream at Whistlepunk
If you want to dawdle a little longer in Leavenworth, stop at Whistlepunk for ice cream. 
Only a few steps away from München Haus, Whistlepunk is the obvious choice for a post-lunch treat. It's known for its generous servings of old-fashioned ice cream flavors, like vanilla bean, rocky road, pistachio, and more.
You can even get a flight of ice cream if you can't decide on just one flavor.
Or, grab a rootbeer or coffee float, or a milkshake to drink in the car. 
Don't do dairy? Try one of the moo-free flavors.
2:30 PM: Drive to Seattle
The drive from Leavenworth to Seattle will take between two and a half and three hours (or more if there's traffic). 
But there's plenty to see along the way, including Snoqualmie Pass if you're driving I-90 or the old logging route if you're driving Route 2.
I like to drive Route 2 to get to Chelan and I-90 to get back to Seattle (driving down the freeway just feels faster). 
5:00 PM: Arrive in Seattle
As long as you don't hit too much traffic, you should arrive in Seattle by 5:30 p.m. at the latest.
Park the car, walk around, and grab some grub at Pike Place Market. Welcome home!